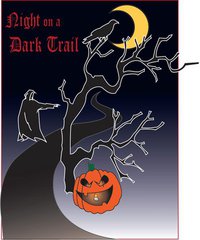 Mark Hennig, the brainchild and director of the
Night on a Dark Trail
joined us today to talk about his fundraiser for Mt. Si Helping Hands Food Bank. Mark also talked about his Boarding Business,
Mark's Pet Pals
, and shared funny stories about his four-legged clients! What a great mission and great and selfless contributor to our community! Thanks, Mark:)
Info on Night on a Dark Trail:
Night on a dark trail Everybody scream, laugh and have a frightfully Good time!
WHEN: October 28, 2011 7pm to 9pm
$6.00 Suggested Donation (more gratefully accepted)
Night on a Dark Trail starts at the East parking lot of the Trailside Building located at 35131 SE Douglas Street
(three buildings down from the Snoqualmie Police Station) in Snoqualmie Ridge.
Event Includes:
Haunted Trail – 4th Grade/10 Years and Older
(Parent common sense advisory ~ scary scenes and dark trail. Bring a flashlight.)
Hay Maze – Try not to get lost!
(Thank you Church on the Ridge)
Jack O' Lantern Festival – Carve a pumpkin and add it to the display.
(Please bring between 3pm and 6pm and electric candles only. Display your talent for the community!)
Dance Performances – Spirits in the night!
(Thank you Ignite Dance and Yoga)
This is a non-profit community event. Proceeds to benefit the Mount Si Helping Hands Food Bank.

Steffanie Lorig, the Executive Director with Art with Heart joined us along with Gabe Meyer, the fundraising and marketing guru (all non-profits need a GABE!!) to talk about Art with Heart.
Art with Heart helps kids through the healing power of creativity, through the creation and distribution of our therapeutic books and supportive trainings for caregivers to help children dealing with the stress and strain of hardship. www.artwithheart.org
CHEF SHOWDOWN: A Creative Bites Competition Supporting Art with Heart
Thursday, October 6th at 415 Westlake, Seattle
Join us as fabulous Chefs John Sundstrom of Lark, Martin Woods of re:public, Angie Roberts of BOKA, and Dylan Giordan of Serafina will showcase their talent and compete live and in person. Come and cast your vote for this fun and entertaining small plates competition.
Go to: http://artwithheart.org/events/ for more info