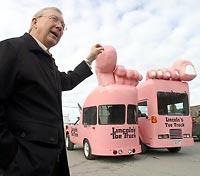 Ed Lincoln and the Two Pink Toe Trucks!
Part 1: Click to play embedded player:
Podcast Powered By Podbean
Part 2 from June 29th, 2011:
Entrepreneurs, philanthropist, author and Seattle legend, Ed Lincoln joined us today with his wife and business partner Connie to talk about Ed's book and the iThemba organization. He shared funny stories and life lessons in business, including stories of the Pink Toe Truck!. Some take aways for me were to not over look the nickles and washers, as well as "buy dirt".
Connie talked about the organization, iThemba that focuses on orphans of HIV/AIDS. We will talk more about this organization in a later show. In the meantime, here is the info: www.ithembakids.org
Buy Ed's book, Life through the Rearview Mirror (I HIGHLY RECOMMEND IT!): CLICK HERE TO BUY