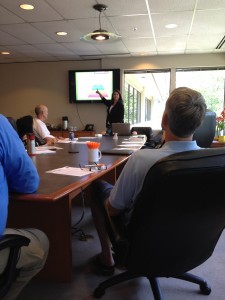 Kim has a passion for helping individuals find their intrinsic motivation. To this end, approved she offers individual tutoring services to children, sales teens and adults in the following areas:
Study Skills/Project Development for Right-Brained Thinkers: Kim has a unique approach to study skills based on experience in highly competitive work environments and as a student in a doctoral program. She recognized early on that right-brained and highly kinetic individuals do not perform well using traditional lists building and organizational techniques.
Kim is trained in psychology and has been delivering "Get Unstuck" workshops for hundreds of people for the last 4 years. She has perfected a program that brings brain science of why people get stuck, with a kinetic and systematic organizational approach for those that are plagued with procrastination and project overload.
As a counselor, Kim is trained to recognize the abilities of the individual for where they are at, and can help him or her build on current skills to best develop a tailored program for success!
Public Speaking: Kim is a trained singer, public speaker and voice artist. Kim is a sought-after speaker that has presented to rooms from 2 to over 4000. She has a natural style of storytelling that has earned her praise and awards. She is currently a radio show host of a weekly program for mission-driven organizations. In addition, her organization, Workforce Evolution, delivers workshops and keynote presentations on psychology and generational shifts in the workplace.
Kim brings a unique perspective in not only style, but connective presence to her students. She is able to help others analyze, read a room, and adjust quickly. She has a quiver of tools she teaches to her students to bring their best selves to the presentation. She uses observation, technical skills and intuition to tailor the learning needs of each individual student.
Psychology/Leadership: Kim says, "I LOVE the human brain and all the potential it holds for innovation and creativity! My best day is helping others discover the love I have for learning about our brains and why we do what we do. My psychological heroes are Maslow, Jung and Carl Rogers".
Kim spends most of her time teaching the science of psychology, human behavior and motivation to business men and women. "I love the work and love working with younger generations. My philosophy is that psychology is about us and how we move successfully (or unsuccessfully) through the world based on science, nature and environment, so to make the best decisions, we need to understand ourselves better. At the end of the day, my students not only learn the subject, but also learn the practical applications, to better our world".
Kim holds a Master of Science degree (MS) in Psychology, is a Human Resources Professional as well as a Certified Counselor with the State of Washington. She is currently in a doctoral program studying Psychology and Organizational Systems. All of these credentials help her to better align the application of psychology in real world scenarios as well as highlight my ethical foundation to providing a safe environments for students to learn. Much of the feedback Kim receive's from clients focuses around her ability to adapt teaching and learning methods to the personalities and styles of students.
Kim's rates start at $50 per hour depending on needs (online/phone versus in person) and travel requirements.
Contact Kim for more information at: 425-888-9790 or [email protected]